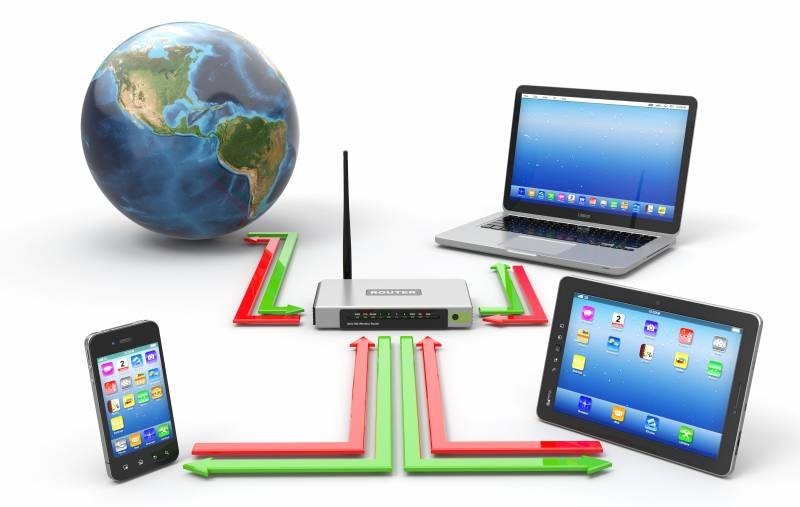 Wi-Fi networks are here to stay. It is true that some bloggers have properly highlighted their negative effects, but even so, it looks like most of us can't live without them. Not only that, but modern routers utilize new technologies, which are able to increase signal range and diminish interference. Most of them are dual-band, so they can make use of the least crowded 5 GHz band, thus ensuring an enjoyable Internet browsing experience. And many of them support guest networks, allowing your visitors to utilize networks that will self-destruct after a few hours. This means that you can allow guests to utilize your Wi-Fi without jeopardizing the security of the entire network.
Small business owners are happy with these new routers as well; they allow them to make use of WPA Enterprise, which will assign each network client a unique password. This way, if a device is lost or stolen, its network access rights can be quickly revoked without having to change the password, and then reconnect all the devices. And I could go on and on...
So yes, modern routers are fantastic! And there has never been a better time to purchase one! Unless you intend to purchase one next year, because it will be loaded with a fresh set of features that you may be interested in. But that's how technology works, right?
A new router will provide a much faster wireless connection, which should solve most people's speed-related needs. Wi-Fi connection speed has grown from 1 Mbps to 1,300 Mbps in less than 20 years, after all. However, some people, who aren't necessarily interested in streaming HD movies over Wi-Fi, prefer a wireless connection that provides a longer range. And let's be frank and admit that a single router, no matter how expensive, can't provide enough signal to cover a bigger-sized house.
Mesh-based networks, which have been invented and used for military purposes for more than two decades, can now be purchased by home users as well. A mesh utilizes a router and several companion nodes (satellite modules) which join their forces to create a single access point that is able to provide a much stronger signal. It's the best solution to fix those nasty dead wireless spots in your home for good.
Meshes are much better in comparison with a router/access points combo, because they don't have to re-amplify an already degraded Wi-Fi signal. Also, unlike traditional access point setups, they won't require you to create several different networks. In addition to this, customers can purchase as many additional nodes as needed, and then connect them to an already existing mesh. Therefore, mesh networks represent the ideal solution for multi-floor buildings.
There are several mesh network manufacturers, and most of their products do a proper job. Here's an article that highlights the best ones. If you follow the link, you will discover that prices range from $80 to $500, so there is a product for every budget. As always, the more expensive products will often provide better results. This is, in fact, the main drawback of a mesh network system: its price. However, if your Wi-Fi signal boosting efforts have been fruitless so far, I guarantee that a mesh-based Wi-Fi network will put a smile on your face.
If you've got a huge home, you should choose a product that provides several nodes out of the box. And if budget isn't an issue, be sure to purchase a mesh which provides support for MIMO (Multiple Input Multiple Output) as well. This way, your mesh will be able to communicate with several network clients at the same time, instead of doing it sequentially. This translates to significantly increased data transfer speeds.